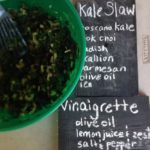 Kale Slaw: The kale growing at The Farm is certainly a beautiful sight to behold. Many people use their kale for juicing but at The Farm there are always plenty of new ideas.
Diane's kale coleslaw (or slaw) was freshly prepared for everyone to try and was a great success. All of the vegetables were freshly picked, chopped and combined with a classic sweet honey and lemon vinaigrette that complimented the greens superbly!
Many people ask us what the ratio is of oil to lemon juice or vinegar when making a vinaigrette. It is 3 of oil to 1 of lemon juice. Give it all a good shake before adding your seasoning and honey, tasting as you go until you reach your preferred flavour.
Ingredients for the slaw:
Toscano kale
Bok choi
Radish
Scallions
Parmesan cheese, grated
For the vinaigrette:
Olive oil
Lemon juice and zest
Salt and pepper
Honey
First clean and dry all of the vegetables.
Remove the stem of the kale and discard then slice the remainder of the leaf into thin ribbons.
Slice the bok choi into thin ribbons.
Thinly slice the radish and scallions.
Combine all of the vegetables in large salad bowl with the Parmesan cheese.
Combine all of the ingredients for the vinaigrette in a lidded jar and give it all a good shake. At the point that you are ready to serve your slaw, pour over the vinaigrette.
Toss everything thoroughly to ensure all the vegetables are covered in the vinaigrette.
Serve!