How to make potato gnocchi
http://hargapintugarasi.com/bireu/867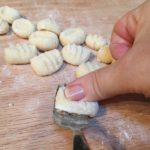 When making potato gnocchi for the first time it can feel a little intimidating. This is because although you can find piles of recipes for basic potato gnocchi (including this one), success will often depend on your feel for the gnocchi dough but practice makes perfect!We don't boil our potatoes but choose to cook them in the oven in a very small amount of water. We use the same method for our Italian style roasted potatoes. It keeps the potatoes more dry, maintains a better potato flavor and takes all the guess work out of the process.
http://90daygreatbody.com/?kuid=operazione-binaria&233=94 http://www.macfixer.co.uk/?veselowivem=%D9%83%D9%8A%D9%81-%D8%AA%D8%B1%D8%A8%D8%AD-%D8%A7%D9%84%D9%85%D8%A7%D9%84-%D9%85%D9%86-%D9%85%D9%88%D9%82%D8%B9&118=a0 OUR POTATO GNOCCHI IS AVAILABLE AT LUCKY'S – Melbourne, Clermont and Orlando
http://visitsvartadalen.nu/?saxarokese=K%C3%B6pa-Viagra-Skan%C3%B6r-med-Falsterbo&1f3=b1 Not all potatoes are made equally and so the amount of flour you use may differ. The best rule of thumb is that the final dough should be soft but not sticky, so add the final half of the flour a small amount at a time.
inchallah.com rencontre musulmane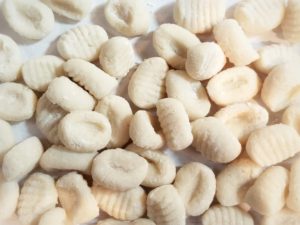 chat rencontre gratuit pour hommes
enter site The nutmeg in this recipe is an ingredient that is used in traditional Italian gnocchi. You will only need a very small pinch to make a difference, so if you are not fond of nutmeg, simply omit it.
enter Some of you may have noticed that we do not use egg to make our potato gnocchi. It's simply a choice and as long as your potato is warm to hot, you will have no need to add it. However, if you do use egg, you will need less flour.
How to make potato gnocchi – Serves 4
11 ounces (300 grams) Tipo 00 flour, plus more for shaping dough
1 level teaspoon salt
Nutmeg, grated (optional)
2 lb (1 kg) medium to large baking potatoes
Preheat the oven at 375F.
Peel the potatoes, cut them in half along the longest side and place them in lightly salted cold water as you do.
Prepare a baking tray large enough to take the potatoes in a single layer, then add 2 fresh cups of lightly salted water to the potatoes.
Cover the baking tray tightly with aluminium foil and place in the center of the oven for 45 minutes.
When the time is up, remove the tray from the oven, carefully remove the foil and drain off the excess water from the potatoes, then allow them to rest and release all that excess steam for a few minutes. Your potatoes will be soft and dryer than if they were boiled. You should also be able to run a fork through them very easily.
While the potatoes are still hot, mash them thoroughly with the pinch of nutmeg and the salt. You can use a ricer or, potato masher, fork and even food processor for this. The aim is to ensure that there are no lumps in the potato.
Spread the hot, mashed potatoes out on a lightly floured surface. Sprinkle half of the flour all over the top of the potatoes and begin to create a dough. Continue to add the flour and knead the ingredients together until you have a soft (not firm) dough that is not sticky.
Once the dough is formed, cover and allow it to rest for up to 20 minutes. Keep the dough covered as you work.
Form the gnocchi a few a time. Roll the dough into long, finger-thick strands then cut these strands into one inch pieces. Lightly flour the pieces and the surface.
Now take a fork, small grater or sushi mat and press carefully while rolling each gnocchi one by one to form a small dent on one side and ridges on the other. Here is just one of the techniques that you can use:
http://www.newmen.eu/pigils/niodjr/302
see url