Fettuccine with bacon and spinach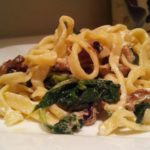 Fettuccine with bacon and spinach: Fettuccine is one of the most popular fresh pastas we make for you here at The Big Dream Factory. When we have a bit of time, we like to cook a dish or two of our homemade fettuccine pasta for ourselves too.After a busy day,fettuccine with bacon and spinach is a quick to prepare
fettuccine with bacon and spinach – Serves 2
250 grams (8.81 oz) The Big Dream Factory's fettuccine italiano
100 grams bacon or pancetta, roughly diced
1 medium red onion, roughly sliced and diced
100 grams (4 oz) fresh spinach
100 grams Philadelphia cream cheese
1/4 teaspoon freshly ground black pepper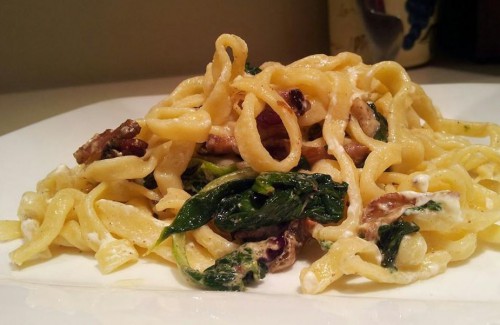 Bring a large pot of lightly salted water to a boil.
Meanwhile, in a large frying pan over a medium heat, add the oil, bacon and onion until the bacon is crisp and the onion caramelised.
Add the pepper and spinach and cook until the spinach has wilted, remove from the heat and cover.
Meanwhile, add the fettuccine to the water and cook for 1 – 2 minutes.
Drain the pasta and add it to the bacon and spinach with the cheese.
Turn the pasta carefully until combined.
Serve.