Foil-baked spaghetti with seafood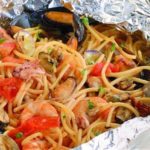 Foil-baked spaghetti with seafood: The technique of baking pasta in foil helps the pasta draw in all those flavours and will help you bring this dish to the table with little effort.
We first experienced this technique at a little restaurant on the water front in Gaeta, Italy. The restaurant was full and very few people were eating something other than a dish of pasta in foil. When the foil is opened, the aroma hits you immediately! Delicious and easily prepared on a garden barbecue too.
Foil-baked spaghetti with seafood – serves 2 – 4
1 slice of fresh swordfish
1 long eggplant
20 cherry tomatoes
1 tablespoon of fresh basil or Italian parsley, roughly chopped
1/4 cup dry white wine
1 clove of garlic, crushed
1 level teaspoon salt
1/2 teaspoon freshly ground black pepper or dried chili flakes
2 – 3 tablespoons Vallecorsa extra virgin olive oil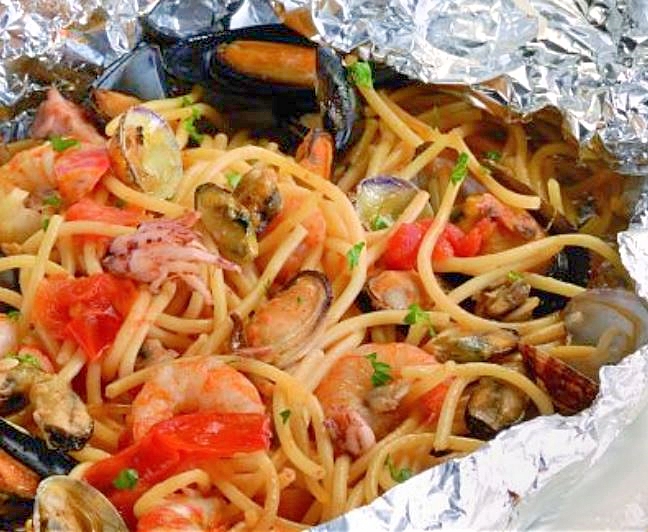 Boil water for spaghetti and turn the oven to 180C / 355 F degrees.
On a baking tray, prepare 2 sheets of plate-sized foil arranged crossed, for each portion.
Meanwhile, wash and cut the eggplant into cubes, then toss in a large frying pan with a little oil over a low to medium heat with the garlic and salt.
Cook for a few minutes and when it is soft, add the swordfish cut into chunks.
Cook for a further 1 – 2 minutes then turn the heat up to medium and deglaze the pan with white wine (allow it to reduce by at least 1/3rd).
Add the cherry tomatoes, pepper and half of the fresh herbs then bring everything to a quick boil. Turn off the heat.
Cook the pasta for 1/3rd of the time indicated, drain and add to the fish sauce, tossing to combine.
Place the mixed pasta on the prepared foil sheets.
Top with the olive oil and remaining herbs and loosely seal the foil well to avoid the pasta drying out during baking.
Bake in oven for about 5 minutes, making sure the noodles do not dry out too much.
Serve in the foil and open at the table.