Italian-style pickled shrimp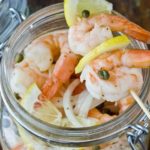 http://vcminden.de/?detire=flirt-spiele-online-spielen-kostenlos&2ce=9f Italian-style pickled shrimp:
This is simply one of most amazing pickling recipes we have ever had the pleasure to enjoy.
go site
Use our capers from Pantelleria, Italy, fresh lemon and wonderful local shrimp to create a salad dish with pickled shrimp that your guests will polish off very quickly. So it is just as well that this recipe is easy to prepare.
source link You can boil your own shrimp and add flavour to the boiling water for that extra special something that will make this recipe your own.
Ingredients: Serves 6 – 8
2 pounds (1 kg) peeled, boiled shrimp

2 tablespoon salted capers, rinsed and drained
1 lemon, very thinly sliced
1 medium white onion, thinly sliced
2 tbs (1 ounces / 30 grams) chopped pimento
1/2 cup (4 fl oz / 120 ml) fresh lemon juice
Zest of 1/2 lemon
1/4 cup (2 fl oz / 60 ml) olive oil
1 tablespoon white wine or rice vinegar
1 clove garlic, thinly sliced
1 medium – small fresh bay leaf
1 level teaspoon sugar or honey