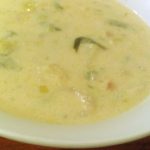 Leek and Potato Soup: There is a recipe in Escoffier's Guide Culinaire in 1903 for Puree Parmentier, a French-style cream of leek and potato soup. And even father back in history, a recipe for Leek and Potato Soup appears in Jules Gouffe's 1869 Royal Cookery Book.Leeks were already in use in the kitchens of the ancient Egyptians and Greece. The Romans also had the opportunity to use leeks and export them all over their empire. Nero believed that this vegetable would improve the voice and sing better. Whatever you believe, during chilly weather a great creamy leek and potato soup will warm and comfort you for brunch, lunch or dinner.
Ingredients: Serves 4
4 large leeks, sliced into thin rings, rinsed and drained
1 medium onion, finely chopped
1 large clove garlic, crushed and finely chopped
4 tablespoons vegetable oil
4 large potatoes, diced into bite-sized pieces
2 oz (50 grams) butter
11/2 pints (850 ml) vegetable stock
10 fl oz (275 ml) half 'n' half
2 level teaspoons salt
1 level teaspoon ground black pepper
1 teaspoon horseradish sauce
2 teaspoons French mustard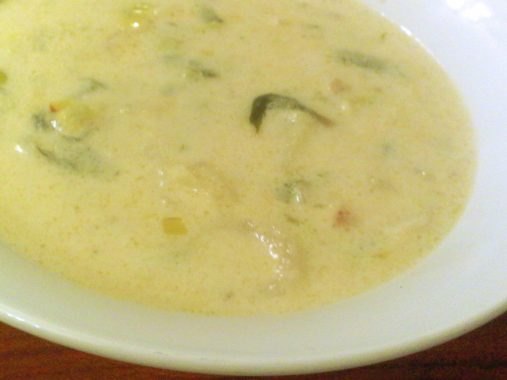 Begin by trimming the leeks, discarding the tough outer layer.
Now split them in half length-ways and slice them quite finely, then wash them thoroughly in two or three changes of water and drain well.
In a large, thick-based saucepan, gently melt the butter, then add the leeks, onions, garlic and potatoes, stirring them to coat in the butter.
Add the salt and pepper, then cover and let the vegetables sweat over a very low heat for about 15 minutes.
Add the stock and hal 'n' half, then bring to a simmer, cover and let the soup simmer very gently for a further 20 minutes or until the vegetables are soft – if you have the heat too high the milk in it may cause it to boil over.
Take 1/3rd of the soup and blend, then add it back to the pan with the horseradish and mustard. Bring back to a boil, check the seasoning and serve.