Sun dried tomato and black olive fettuccine
jamestown ny dating sites sepeda toni crossland ie follow site Sun dried tomato and black olive fettuccine: Our Sun Dried Tomato and Black Olive Fettuccine contains just that! It's the perfect pairing for any robust sauce or as a stand-alone dish simply drizzled in extra virgin olive oil. Very tasty!
http://pialadunia.es/?espikoleto=mujeres-buscando-hombres-houston&97d=1b When The Pasta Maker is in the kitchen messing around with pasta dough, it's not unusual to see a few more ingredients going into the mix alongside the flour and eggs. On this particular occasion it was sun dried tomatoes and black olives. Because the farm is producing so many cherry tomatoes, we dried some and recommend you give our recipe for oven-dried cherry tomatoes a try then add them to your sauce when cooking up a dish with our sun dried tomato and black olive fettuccine.  Heaven!
masaniello opzioni binarie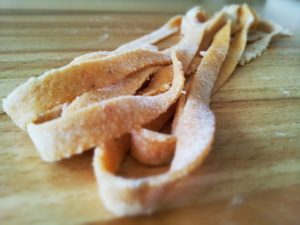 To Cook from our fettuccine from fresh
Bring a large pot of lightly salted water to a rolling boil.
Add the pasta, stir and check for doneness after 1 minute.
Drain and serve with your favourite sauce.