Traditional Italian rum baba
http://pialadunia.es/?espikoleto=encontrar-mujeres-solteras-facebook&4f0=f5 citas por internet cafesalud bucaramanga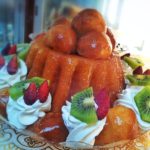 Traditional Italian rum baba: You cannot walk through the ancient city of Naples, Italy, without passing a pasticceria or two (or three). Naples is infamous for this particular dessert and we urge you slurp one away on your next visit.
http://bti-defence.com/language/id/patriot_id/ You might expect these rum babas to be excessively alcoholic but not so. They are soaked in a light, sugar rum syrup and by soaked, we really do mean that most sincerely.
xine player command line optinos Therefore, eating your baba will be quite an achievement because you are supposed to eat it without the aid of a knife, fork or spoon!
opzioni binarie 30 secondi broker confronto
premier ministre rencontre pauline marois
follow link Your Neopolitan rum baba is waiting! Slice them open, fill them with 'lashings' of whipped cream or custard, cover them in fresh fruit and serve …. spectacularly!
http://highschool.isq.edu.mx/cr45/8707 Our recipe for traditional Italian rum baba will make up to 12. The one in the photograph above is a combination of many small babas surrounding the 'mother load' in the centre. You can make them any size you like, arrange them any way you like and serve them at any time of the day or night. So go forth and cook yourself up a taste of Italy!
For the batter:
50 ml fresh, whole milk, lightly warmed
30 gram fine white sugar (caster sugar)
20 grams brewer's yeast
250 grams all purpose flour
5 grams salt
4 large eggs, beaten
125 grams butter, soften to room temperature
Rum syrup:
0.5 litre water
1 shot dark rum
500 grams fine white sugar (caster sugar)
go to link rencontre madagascar gratuit Apricot jam gloss:
2 tablespoons apricot jam
1 tablespoon of water
source
Prepare the batter:
Add the warm milk and dissolve two teaspoons of sugar from the 30 grams, into the yeast.

Mix well and leave it to stand for a few minutes until a froth appears on the surface.

In a large mixing bowl add the flour and salt and combine.
Now add the beaten egg and yeast combining the batter slowly until smooth
Mix (possibly with the help of a food processor) the flour, eggs until there are no lumps.
Using a spatula, clean the sides of the bowl and combine with the batter in the centre.
Soften the butter and mix with remaining sugar, now add to the batter a little at a time and whip on a medium to high speed.
Generously grease the inside of a large mixing bowl and pour the batter into it
Cover the bowl with some plastic wrap and set it somewhere at around 75 degrees, avoiding any temperature changes, for an hour and a half until it has risen.
Once it has risen, stir it around and immediately all the air will be gone and your batter will reduce in size – DON'T PANIC! This is normal.
Pour the batter into a jug.
Pour the batter halfway up twelve greased and lightly floured molds of 5 – 6 cm high (2.3 inches), halfway and set them aside for another 20 minutes to rise again.
Preheat the oven to 400 F/200 C degrees, then bake in the oven for 10 minutes.
Turn the oven down to 350 F/180 C and continue baking for a further 10 minutes then
remove from the oven and allow the babas to cool.
For the rum syrup:
As the babas cool, prepare the syrup by boiling the water then turn off the heat
Add the 500 grams of sugar and mix until dissolved, then add the rum.
Once the syrup is ready and the babas are cooled, soak each one well.
For the apricot gloss:
In a small saucepan combine the apricot jam with a drop of water and heat until runny.
To give the baba its gloss, brush them all over with the warm and runny apricot jam.