How to make creamy polenta with grilled eggplant and tomatoes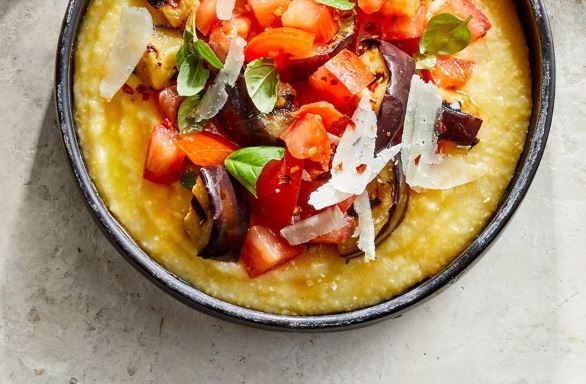 Creamy polenta is a welcome additional to the sweet flavour and plump flesh of ripe tomatoes are a natural fit with the silky texture that eggplant gets from grilling. You can get the same effect by broiling for about 4 minutes per side.
Polenta is really a dish, not an ingredient, from northern Italy. It refers to a porridge or mush now made from coarsely ground cornmeal since corn was cultivated in Europe in the 16th century, but was also in the past made with farro, chestnuts, millet, spelt or chickpeas. Polenta is usually made from yellow corn.
Creamy polenta with grilled eggplant and tomatoes – serves 4
4 cups water
1 cup yellow cornmeal
1 tablespoons butter
1/2 teaspoon salt
1 lb plum tomatoes, chopped
4 tablespoons extra virgin olive oil
2 teaspoons chopped fresh oregano
1 clove garlic, finely chopped
1/2 teaspoon crushed red pepper
1 1/2 lbs eggplant, cut into 1/2 inch thick slices
1/2 cp chopped fresh basil
1/4 cup ricotta salata, grated (or crumbled feta cheese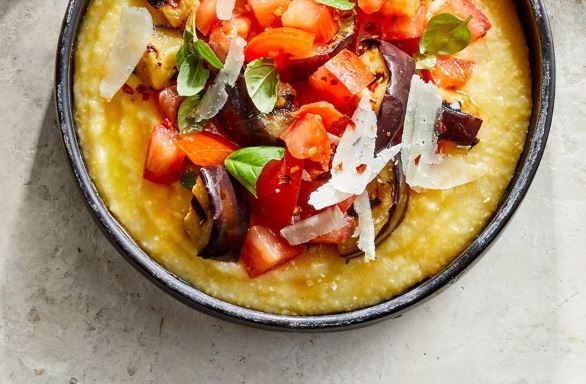 Bring water to a boil in a medium saucepan over high heat. Slowly whisk in the cornmeal and reduce heat to maintain a simmer. Cook, stirring occasionally, until thickened and the cornmeal is tender, about 35 minutes.
Remove from the heat and stir in butter and 1/4 teaspoon salt.
Meanwhile, preheat grill to medium-high.
Toss tomatoes with 3 tablespoons of olive oil, oregano, garlic, pepper, crushed red pepper and the remaining 1/4 teaspoon salt, in a large bowl.
Brush eggplant with the remaining 1 tablespoon oil. Grill, turning once, until tender and charred in spots, about 4 minutes per side. Let cool for 10 minutes. Chop into bite-size pieces and add to the tomatoes along with the basil.
Serve the tomato mixture on top of the polenta, topped with the grated cheese.
(Visited 21 times, 1 visits today)
About Post Author