6 Antipasto Party and Finger Food Ideas for next gathering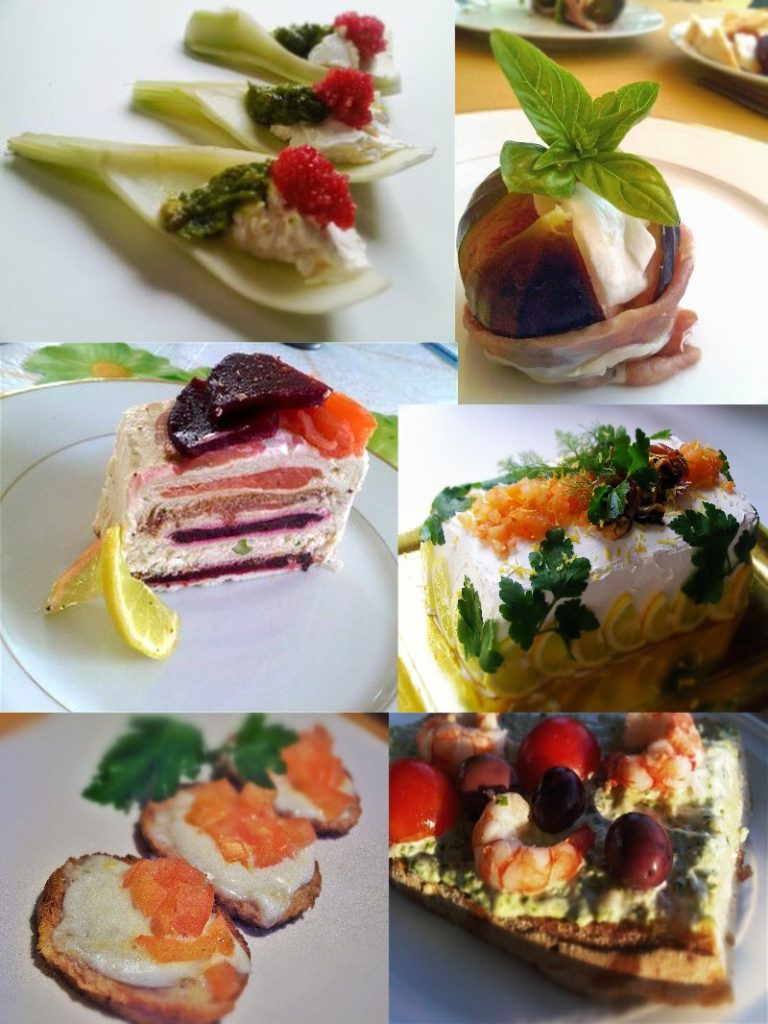 Antipasto Party and Finger Food Ideas: If I had to name one thing that stresses us all out about parties, it's the food. How many times have I come up with an idea for a dish and then promptly forgotten it during the crucial moments wandering the markets for ingredients.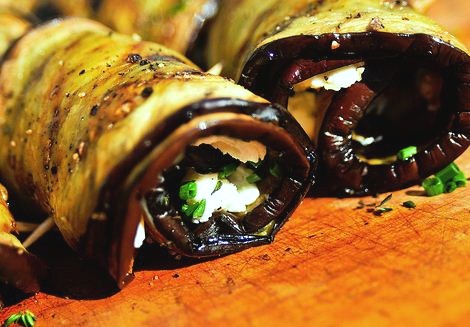 Following an early gift from Santa of an iPad, I set about trying to compile my ideas into words and pictures. Turns out that I have rather a lot of words and pictures in the antipasto department so I'm going to store a few of them here instead, and I'm going to keep it simple.  This means we're flying without the help of a recipe.  Are you with me??!! O.K. let's start with one little finger food idea I came up with while chopping into fennel.
1. Fennel party spoons
Fennel party spoons come ready for filling so fill them with whatever comes into your head. If you are wary of what lurks behind the fennel bulb by way of flavour, we can report that they are crunchy, sweet, aromatic and a perfect partner for almost anything.
2. Stuffing fresh figs
Although fresh figs are out of season here in Paradise, they may be available where you are which is why stuffing figs is on the list. And doesn't she look pretty! The great thing about a fig is that it behaves perfectly as a finger food. Just the right size, weight and ready to be stuffed with anything you fancy and is ideal as the starting point for a vegan antipasto party plate.
3. The humble sandwich – transformed
You may be wondering why we would even bother putting a sandwich on a list of antipasto ideas. However, this is no ordinary sandwich because this my friends is a Smorgastarta!
We love these in Paradise and so too do those who we make them for. You can make them ahead of time, in any shape you desire, layer them with fish, meats, veggies – well anything you can think of that makes a sandwich. Smorgastarta is simply a redesigned sandwich.
If you would like to become more familiar with The Gourmet Sandwich you can find out more over at Enzo's Place Headquarters.
4. More tasty delights on bread
Even if you have never visited Italy, the chances are still high that you have eaten bruschetta.  Bruschetta in its most simple form is warm toast which is familiarly topped with fresh tomatoes in garlic, salt and drizzled all over with olive oil.  However, you can top your brushcetta with all sorts of wonderful concoctions and fill your antipasto party table with excitingly tempting splashes of colour.
If you think that these look a little large for an antipasto party table, you can make them as large or as small as you like.  Consider this little confection for example: Blini topped with goat's cheese and tuna salsa. A bit precarious for finger food but nevertheless delicious! Plus you can top your blini with different flavours, textures and make them more precarious then have fun watching people try to eat them.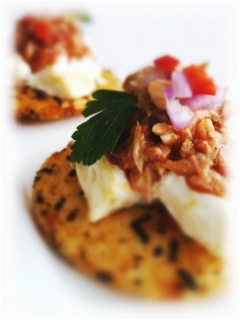 5. Keeping it simple
It's all too easy to get stressed about putting something exciting, different and tasty on the antipasto party table. Although keeping it simple never means you having to compromise. Some of the most popular antipasto table fillers are the most simple. A dish of olives, a section of dried fruit and nuts (always a winner on our table), cheeses and there's more. What about a Caprese!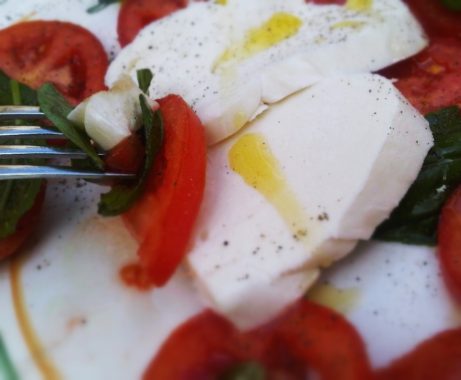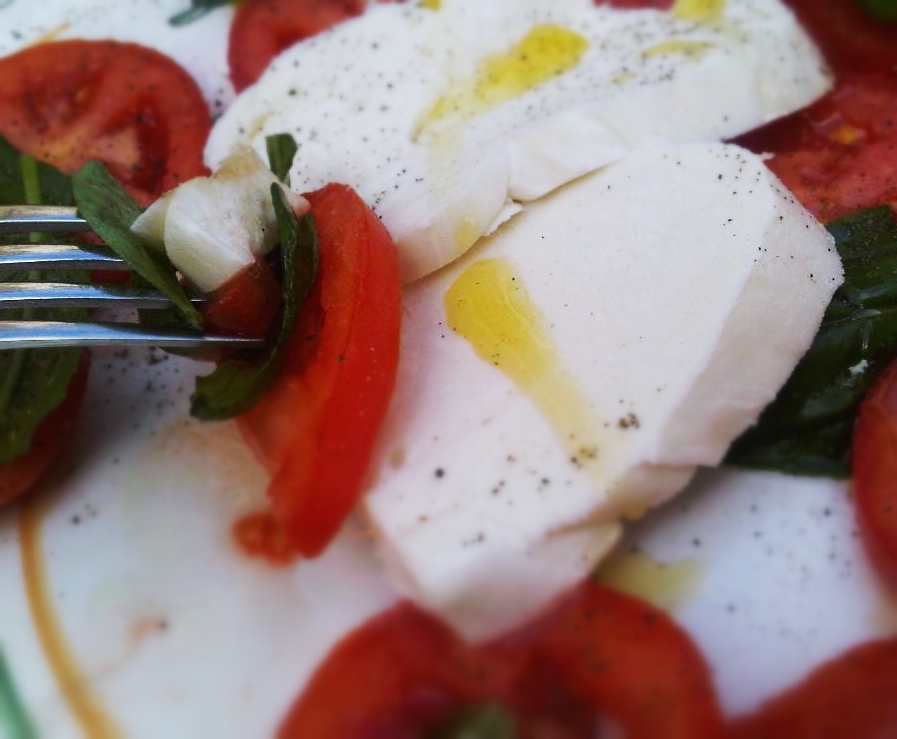 This little salad is simply genius! Equal amounts of tomato and fresh mozzarella layered on a plate with pesto sauce then dusted with pepper, Italian herbs and drizzled with olive oil … quite frankly a must for our table. You can stick it on top of bread as another bruschetta or, and wait for it … pile it into fennel spoons!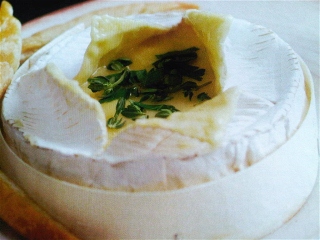 I KNOW!! Beat me over the head with the nearest cheese box if baking brie or camenbert isn't the easiest and most elegant antipasto. Remove any plastic wrapping, stuff it back in the box and shove it in the oven for about 20 minutes. Serve with tortilla chips, vegetable sticks … oh, good grief! Even fennel spoons.
6. Simple shrimp
The wonderful thing about Italian food is that the Italians tend to intervene as little as possible with it allowing fresh ingredients to speak for themselves. Take this shrimp for example. Lay them out on baking tray whole with a little salt, olive oil and garlic. Place them in the oven (in this case it was Enzo's pizza oven) until cooked through and finish them off with fresh parsley and lemon juice. A perfect finger food idea!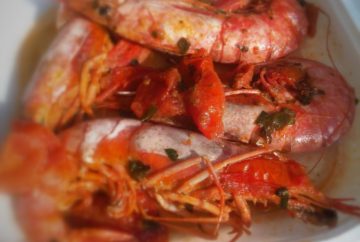 PHEW! We hope we've managed to help you transform your party table into something special with as little effort as possible. After all, if it's you that's hosting the party you don't want to be out in the kitchen. You want to be singing, dancing, mingling and munching on all your finger food ideas with the rest of them!
Now go forth into the markets and get antipasto-tastic!
(Visited 20 times, 1 visits today)
About Post Author